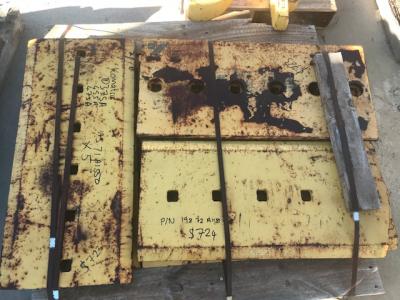 Location
kwinana beach, Western Australia, Australia
Suits
D375A-1, D375A-2, D375A-3, D375A-5, D375A-6, D375A-8, D475A-2, D475A-3, D475A-5, D475A-5E0, D475ASD-
Details
Blades D375

198 72 A1181 Blade$400 Each
195 71 A1550 Blade $400 Each
165 78 71320 Boot $160
195 30 51750 Prtoector $500


Komatsu
Used 707-01-0F560 Ripper Tilt Cylinder to suit D475A-5, D475A-5E0, D475ASD-5E0.
Western Australia
Komatsu
It looks like we couldn't find any matching parts or components
We have an extensive network of component providers across the globe and can help you source any part you need, no matter how hard to find.
Contact us today and one of our sourcing specialists will assist you to find exactly what you need.
Engine
Model
Komatsu SAA12V140E-3
Type
4-cycle, water-cooled, direct injection
Aspiration
Turbocharged, air-to-air aftercooled
Bore x stroke
5.51" x 6.50"
140 mm x 165 mm
Piston displacement
1,860 in³
30.48 ltr
Hydraulic fan at maximum speed
860 HP
641 kW
Governor
All-speed, electronic
Method
Gear pump, force lubrication
Filter
Full-flow and bypass combined
TORQFLOW Transmission
Komatsu TORQFLOW transmission consists of a water-cooled, 3-element, 1-stage, 1-phase torque converter with lockup clutchand a planetary gear, multiple-disc clutch transmission which ishydraulically actuated and force-lubricated for optimum heatdissipation. Gearshift lock lever and neutral safety switch helpprevent accidental starts.
1st
2.1 mph / 3.3 km/h
2.6 mph / 4.2 km/h
2nd
3.9 mph / 6.2 km/h
5.0 mph / 8.0 km/h
3rd
7.0 mph / 11.2 km/h
8.7 mph / 14.0 km/h
Final Drive
Double-reduction final drive of spur and planetary gear sets toincrease tractive effort and reduce gear tooth stresses for long final drive life. Segmented sprocket teeth are bolt-on for easy replacement.
Steering System
PCCS, joystick controlled, wet multiple-disc steering clutches are spring-loaded and hydraulically released.Wet multiple-disc,pedal/lever controlled steering brakes are spring-actuatedhydraulically released and require no adjustment. Steering clutches and brakes are interconnected for easy, responsive steering.
Minimum turning radius
15'1"
4.6 m
Undercarriage
Suspension
Oscillating equalizer bar and pivot shaft
Track roller frame
Cylindrical, high-tensile-strength steel construction
Rollers and idlers
Lubricated track rollers
K-Bogie Undercarriage
Lubricated track rollers are resiliently mounted to the track frame with a bogie suspension system whose oscillating motion is cushioned by rubber pads.
Extreme Service Track Shoes
Lubricated tracks. Unique seals prevent entry of foreign abrasives into pin-to-bushing clearances to provide extended service life. Track tension is easily adjusted with grease gun.
Number of shoes (each side)
41
Shoe width (standard)
32"
810 mm
Ground contact area
11,360 in²
73290 cm²
Ground pressure (Tractor)
16.2 psi
112 kPa / 1.14 kg/cm²
Number of carrier rollers
2
Extreme service shoes
36"
910 mm
Additional weight
4,030 lb
1830 kg
Ground contact area
12,762 in²
82340 cm²
Tractor ground pressure
14.8 psi
102 kPa / 1.04 kg/cm²
Service Refill Capacities
Fuel tank
441 U.S. gal
1670 ltr
Coolant
72.6 U.S. gal
275 ltr
Engine
32.0 U.S. gal
121 ltr
Torque converter, transmission, bevel gear, and steering system
55.5 U.S. gal
210 ltr
Final drive (each side)
19.8 U.S. gal
75 ltr
Operating Weight
Tractor weight including rated capacity of lubricant, coolant, full fuel tank, operator, and standard equipment.
Operating weight Including strengthened Full-U tilt dozer, giant ripper, steel cab, ROPS, operator, standard equipment, rated capacity of lubricant, coolant, and full fuel tank.
Ground pressure
24.0 psi
166 kPa / 1.69 kg/cm²
Hydraulic System
Closed-center load sensing system (CLSS) designed for precise and responsive control, and for efficient simultaneous operation.
Relief valve setting
3,980 psi
27.5 MPa / 280 kg/cm²
Control valves (Spool control valves for Semi-U tilt dozer and Full-U tilt dozer):
Blade lift
Raise, hold, lower, and float
Blade tilt
Right, hold, and left
Control valves (Spool control valves for variable digging angle multi-shank ripper and giant ripper.
Ripper lift
Raise, hold, and lower
Ripper tilt
Increase, hold, and decrease
Hydraulic cylinders
Double-acting, piston
Hydraulic cylinders
Number of cylinders
Bore
Bore
Blade lift / 2
7.09"
180 mm
Blade tilt / 1
9.84"
250 mm
Ripper lift / 2
8.86"
225 mm
Ripper tilt / 2
8.86"
225 mm
Hydraulic oil capacity (refill):
Semi-U tilt dozer
48 U.S. gal
180 ltr
U tilt dozer
48 U.S. gal
180 ltr
Ripper equipment (additional volume):
Giant ripper
34 U.S. gal
130 ltr
Multi-shank ripper
34 U.S. gal
130 ltr
Request a Quote
Searching for components or parts for your D475A-5?
We source and sell components globally, so tell us what you need and one of our component specialists will be in contact shortly.
---